PONO YOGA RETREAT

APRIL 2018
TRAVELING Stylists, massage Therapists, yogis and makeup artists
Once a year we organize a wellness retreat designed to realign your mind, body and spirit through immersion in culture, healthy habits, adventure and self love. Join us on a journey of the senses through the jungles of Hawai'i island.
Pampering begins with a welcoming spa day in the rainforest. Each day thereafter will be full of yoga, organic, healthy meals, meditation, hiking, swimming, Hawaiian culture, adventure and most of all rejuvenation.
Accommodations include a shared yurt living space, an acre of Hawaiian rainforest jungle to explore and an outdoor shower/bathhouse. Tucked away in the rainforest we guide you through an unforgettable experience and send you home with the spirit of Aloha coursing through your veins.
Your retreat includes transportation to and from the airport (ITO), a bed to call your own, organic, healthy meals (vegan options), a soothing massage in the rainforest, an invigorating body scrub, a gel pedicure or a gel manicure , a 3 hour lava boat tour, a tour to the volcanic crater, several waterfall hikes, yoga and meditation every day, a lei making class, Hawaiian cultural education classes, farmer's markets, a bon fire party, snorkeling and if you come on the week of Merrie Monarch, there will be plenty of Hawaiian cultural activities to partake in.
Example of an adventure day.
Early Morning Meditation in the forest
45 minute guided meditation listening to the forest's birds and leaves rustling with the breeze.
An aca'i bowl created by our very own Ayurvedic dietician
Hawaiian Culture Lecture by Hawaiian Studies Major
Hear the ancient Hawaiian stories of the beautiful lands we will be exploring.
Coastal Drive and Waterfall Hikes
Try your yoga moves by a waterfall, enjoy a tour through the Hawaiian lush tropical gardens and collect flowers for lei making. Lunch in a forest.
Snorkel, float and swim with turtles, fish and more. Snacks provided
Alkaline water to cleanse your system and a healthy meal created by our Ayurvedic dietician.
Enjoy a nice cup of awa in a ceremony designed to celebrate life, release old energy and manifest blessings for future.
Bathe, shower or wind down with a cup of tea by the fire. All large lights will be turned out so we can enjoy the starlight and some inward reflecting. Small string lights will guide your path through the forest at night. Coqui frogs will serenade you into a deep slumber.
PONO YOGA- FREE CLASSES- NORTH SHORE, OAHU- WEDNESDAYS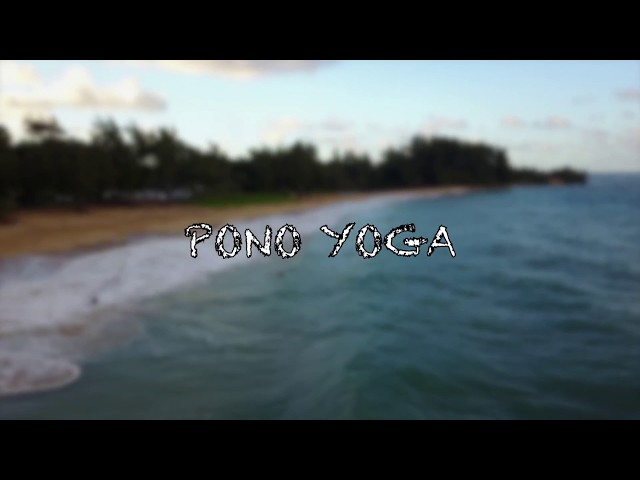 /